Geneva Hahnfeld Memorial Fund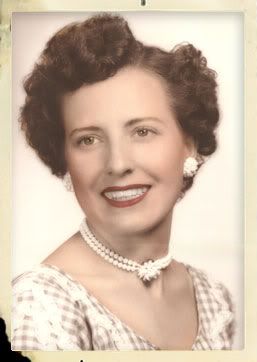 Announcing the Geneva Hahnfeld Memorial Fund, in memory of a 41 year survivor.

Geneva was diagnosed in 1969, when little was known about this disease and when fewer women survived diagnosis. She was 43 years old, and had a 2 year old daughter.

Her diagnosis and surgery were a carefully kept secret. Breast cancer was not socially acceptable in 1969, and women lived in fear of their secret being discovered.

Her daughter, Marcia Deitrick, was diagnosed with stage 2 breast cancer on in 2007. From that first day, she refused to keep quiet, or live in fear that someone would learn what was happening to her.

Geneva died unexpectedly in late 2010 at the age of 84 from a massive heart attack. After 41 years of survival, she won; breast cancer lost.

In her memory, her daughter has established a memorial fund to assist the Pink Daisy Project in helping other women living with breast cancer.

May we continue the fight against breast cancer until the day a cure is found. May we have hope for long term survival such as that with which my mother was blessed. May we be a blessing to those who walk beside us, and to those who come after us.